Originally written for the OUPF Newsletter 31st July 2021–correct at time of writing.
Can hungry reindeer transform a landscape? Oxford PhD student Marcus Spiegel is in the right place to find out: the Yamal Peninsula, Western Siberia.
Here, the indigenous Nenets people manage vast herds of semi-domesticated reindeer through long annual migrations.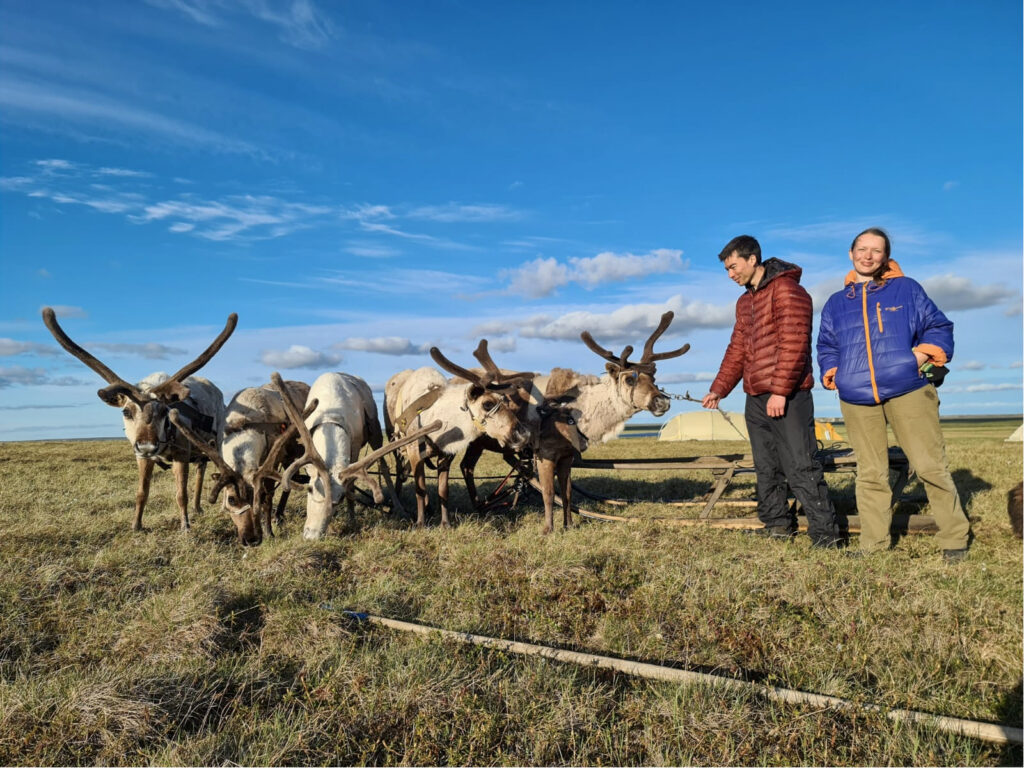 Marcus is measuring the changes to the vegetation that occur as the reindeers move in to graze a new area.
He is flying drones before and after a herd moves through to create 3D imagery of the land and vegetation, and detect the changes due to reindeer grazing. 
By combining this 3D imagery with measurements made on the ground, Marcus hopes to work out the impact of reindeer grazing on total vegetation biomass and landcover. 
In tandem with these visible changes to the landscape, Marcus wants to understand how reindeer grazing changes the invisible carbon fluxes between the ground (soil and plants) and the air. 
To measure this, Marcus has built an acrylic box that houses a gas analyser. In the field, however, Marcus says that this big box "is cumbersome and difficult to carry to the study areas. As a solution, we constructed a stretcher that allows us to work together to transport this equipment."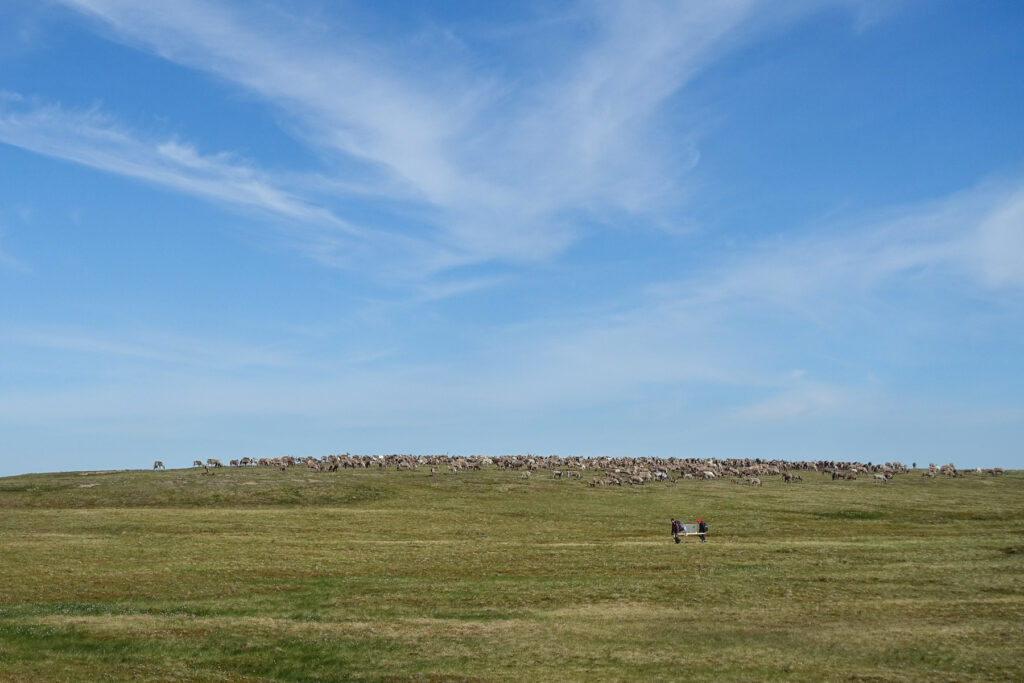 How does this box help you to measure carbon fluxes? "When using the analyser with the chamber, we only leave it in place for 2 mins. This is enough time to get the instantaneous flux, and since it's a sealed chamber, if you leave it for too long, then the evapotranspiration and photosynthesis/respiration end up changing the concentrations of H2O and CO2 in the chamber too significantly from ambient, affecting the flux."
Marcus explains that the measurements are light-sensitive, because the balance between photosynthesis and respiration changes as the sun goes in and out of the clouds. To take account of this, Marcus continually measure the light level inside the box, and repeats the measurements in the same spot using a range of mesh coverings that block out progressively more light. 
Why is Marcus's fieldwork so important? Marcus says that his work is "relevant to current debates about overgrazing in the tundra and the potential impacts of Arctic megafaunal rewilding".
With his work depending on studying herded reindeer, Marcus is grateful to the interdisciplinary team from the Yamal Arctic Research Station. "Their relationships with local reindeer herders have made it possible to identify past and future pasture areas and coordinate the timing of my drone mapping with their migrations."
Click the icons below for Marcus' Twitter page and the Yamal Arctic Lab Instagram page.